Rangoli Restaurant
Welcome to the magical world of Aromas & Delicacies
RANGOLI is a reputed chain of restaurants based in Dubai well known for its authentic Indian cuisine. As a well-established brand in hospitality, the RANGOLI Group of Restaurants promotes excellent dining and always looks forward to provide maximum facilities to the customers as per their requirements.
RANGOLI – The Indian art form that expresses warm hospitality and enhances the beauty of the surroundings using vibrant colours. We, at RANGOLI RESTAURANTS have incorporated all these qualities of the art form along with our values and traditions and created exquisite foods which tantalise the mind and senses of one and all. We are committed to providing our customers with an uncompromising quality of food in a comfortable family friendly environment.
Right from inception, service with a smile has been our keyword! We serve a wide variety of mouth-watering dishes with a warm smile that adds to our charm. It's a perfect spot for breakfast, lunch, dinner and any break time snacks to enjoy with family & friends. Our chefs bring to you the most tried and tested exotic recipes which the friendly and helpful waiters serve you with care and finesse. Our delectable cuisine includes a Gujarati THALI which has an impressive variety of dishes and is a great value for money. Our lip smacking Chaats (savoury snacks) are globally renowned as well as our South Indian dishes, which take you on a journey back home.
RANGOLI RESTAURANTS believe in delivering the highest quality of food using the best ingredients and the most qualified and experienced professionals to serve our patrons. Our main chefs and staff hail from India and many have been with us ever since the inception of our restaurants. They specialize in serving Indian food, Chaat, Mithais, Sandwiches, Pizzas and other delicious culinary delights which leave our customers with a sense of satisfaction only to revisit us. In our quest to excel ourselves, we have planned to expand our services and widen our horizons to keep pace with the growing demand for Indian cuisine and in doing so, continue to serve with excellence.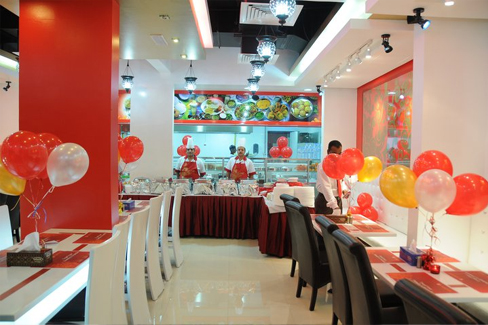 ---
History
Our forefathers originated from a small village, Advana, in Gujarat, India. Being farmers by profession we have always been in touch with the core of food right from its inception.

After migration in the late 60s, our first attempt in the journey of demystifying food began in 1972 when our Manoranjan Restaurant was established. It was nestled in Bur Dubai near the textile market on Juma Masjid road. It was among the first Indian eateries in Dubai which served homely food to people away from home.

Our second venture came in the form of RANGOLI RESTAURANT, in 1992. Due to the continual support of our customers and staff we added a mezzanine floor to the restaurant which now boasts a seating capacity of 150 people. RANGOLI RESTAURANT has become one of the highly-acclaimed landmarks in Meena Bazaar and is praised for its timely service & delicious, hygienic food at pocket-friendly prices.

We expanded our horizons further and started a RANGOLI CATERING SERVICES to cater to parties (big & small) and do bulk catering.

The over flowing crowd at RANGOLI RESTAURANT at Meena Bazaar prompted us to set up RANGOLI LITE, LLC, in 2010 at Oud Metha. The restaurant has now become reputed for the good, simple and tasty Indian homestyle food it serves.

The latest offering from RANGOLI RESTAURANTS chain of hotels is the RANGOLI VEG RESTAURANT LLC which was set up in Jan 2018 in Karama, Dubai. In a brief span of time the restaurant has become the GOTO place for authentic vegetarian food.

Our name is synonymous with quality, comfort, taste and service. We cater to the multi-racial communities based in Dubai, India and as well as overseas.

We are looking forward to expand further in the coming years, globally and seek your continual support in all our forthcoming ventures.
Vision, Mission & Objectives
Our vision, mission, objectives and facilities determine our attitude, our actions and our behaviours. They answer crucial questions about the way we see ourselves and bring clarity to the goals we have and the path to be followed to achieve the said goals.
We believe that the sum of our values, properly understood and above all consciously and consistently lived, will make us more successful.
Mission
To incorporate all the qualities of our values and traditions to create exquisite delicious food.
To provide our customers with an uncompromising quality of food in a comfortable friendly environment.
To serve traditional food with warm hospitality which takes you on a journey back home.
Our concept combines variety, ambiance and helpful staff to create a sense of 'place' in order to reach our goal of overall value in the dining/entertainment experience. We offer fair profits for the owners and investors, and a rewarding place to work for the employees
Vision
To continuously fulfill our guest's requirements, exceed their expectations and achieve our motto "customer satisfaction".
Expand our operations all over Dubai, U.A.E and across the globe by providing a combination of traditional and modern day to day food.
To be well renowned all across the globe for our traditional food and hospitality.
Objectives
To maintain delicious taste, quality standards & customers satisfaction and also adapt to changes as and when required.
To recognize the needs and requirements of each and every customer is important, and hence provide them the best, by fulfilling their expectations.
To satisfy the employees is an important essence and ingredient, to contribute towards our future success.
Go that extra mile to serve our guests and exceed expectations completely at ease.